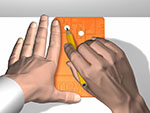 Easy mounting
Thanks to the installation kit and its drilling template includes, installation is very simple and fast. Your Chair Rails will be installed in a tower of hands.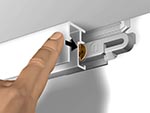 No space between the rail and the ceiling
Only be set closer to your ceiling with its rail and its patented clips are Newly © Rails.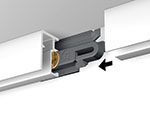 Simple connection of rails
The Newly © Rails rails are extremely easy to connect between it, simply to position a clip between two rails. In addition you will find in the range of Rails Newly© attachments endpoints and connections of angle in the colours of your Rails.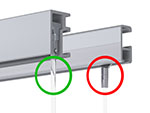 Invisible cable hook
The Newly © rails are the only to fully hide the cable hooks, making them particularly elegant and discrete.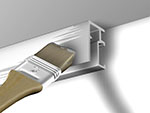 Can be painted easily
Unlike the rails of the market all clashes Newly © systems are available in anodised aluminium and especially in Matt White, and not in a white lacquered, difficult to repaint. Matt White is a true primary that will receive the same paint your walls. The Rails will be of absolute discretion.
Can be cut easily
The Newly Rails rails are aluminum, so it's easy to cut with a hacksaw. You can adapt just the lengths of your Rails with those of your room. We also recommend that you use a box tab for a perfectly straight cut. You can find on the decoho.com one Cup set (hacksaw + box tab).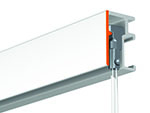 Very resistant despite its size
The Newly © R10 rails are extremely resistant and carries a load up to 20 kg per linear metre. The Rails Newly-R20 supports up to 30 kg and the R30 up to 50 kg! All despite very small sizes, 17 mm only for the hanging of paintings R10 system.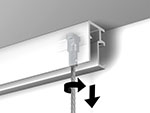 Cable Twister © and hook removable
The Newly © cables exist perlon (2mm transparent synthetic cable) of resistance up to 20 kg or steel for resistance up to 50 kg. Twister tips allow to insert in any location of the rail. The H50 and H100 removable hooks allow a precise adjustment of the height of your framed picture.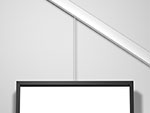 Possible hanging in slope
Thanks to the Newly © Stoppers it is very easy to position photographs framed in stairs, or any other places requiring a montage of sloping Rails.