Decoho.com is the specialist in systems for displaying and hanging in the school setting. Decoho.com offers a range of display products particularly suited for schools, colleges, and high schools.
Info Artiteq Rail:
System Info Rail is a rail that allows the presentation and the attachment of documents, from simple sheet of paper (min 80 g/m2) to thicker support up to 2 mm.
With Info Rail, you can hang and present children's drawings very simply, without having to use thumbtacks or Patafix. Info Rail is more economic, and does not damage the walls. But most importantly, Info Rail is particularly simple to use.
Example of use of the Info track of Artiteq.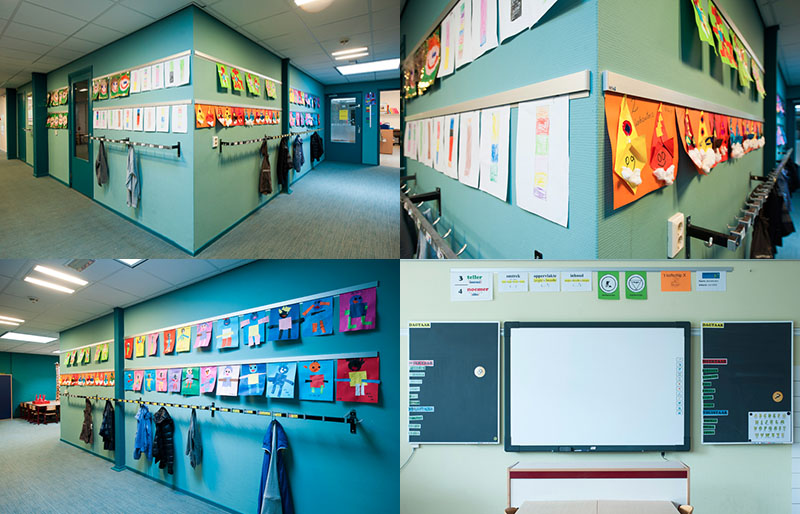 Rail info + Artiteq:
Little brother of Info track of Artiteq, Info Rail + incorporates a shelf to put small objects and framed photos on the upper part.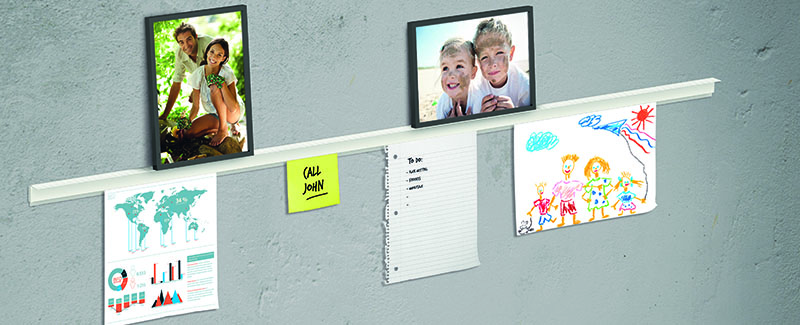 Rails Newly R10:
You are looking for a solution to hang frames and tables without constraint? No longer having to pierce the walls every time you want to move a table? The solution is simple: just ask for Rails. All models of chair rail cimaise Newly R10 is undoubtedly the most adapted to the school environment. It is very discreet with its dimensions of only 17 mm high on 12 mm wide. It is nonetheless extremely durable, able to withstand a load up to 20kg per linear metre.
A particularly easy installation thanks to its system of clips, it requires no special skills for the installation. In addition, cimaises Newly being painted with a white primer, it is very simple to repaint them color his choice... or its wall for more discretion yet!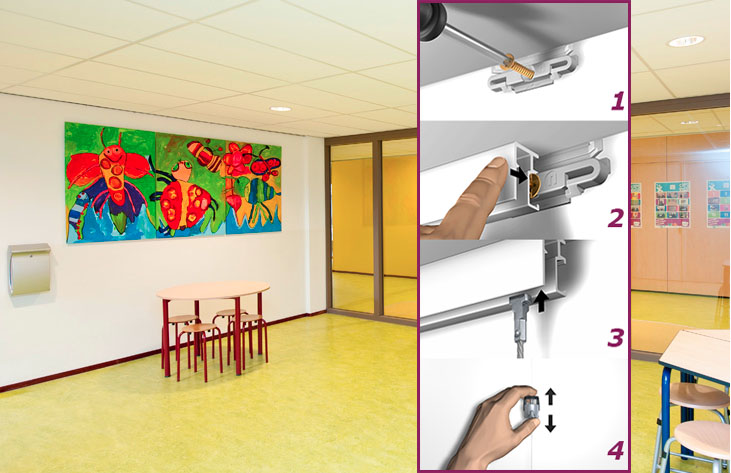 Ceiling Hanger of Newly:
The Ceiling Hanger of Newly system is particularly clever. It allows you to attach frames and tables without piercing the walls! Indeed, Ceiling Hanger attaches to the peripheral rail of your false ceiling slabs. You can hang a framework, or any element of wall decoration, with a maximum weight of 5kg.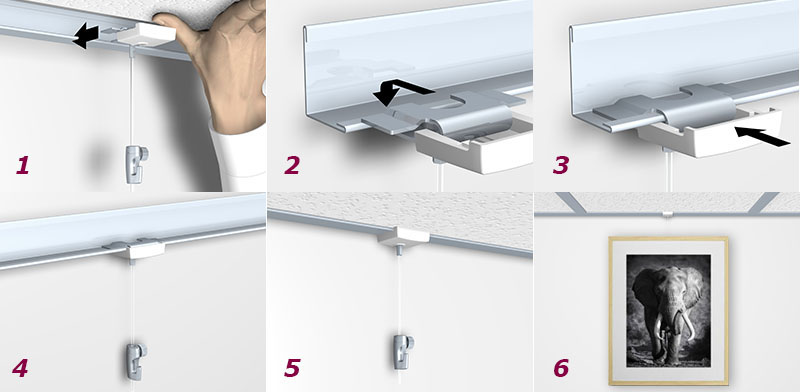 Ceiling Newly clamp:
In a school, a college, a high school, it may be necessary to hang a poster, a poster. However, it does not necessarily of a system allowing attachment anywhere. With Ceiling clamp, you can hang anywhere, from the moment where your institution has a false ceiling slabs. Simply clip the Ceiling clamp system on the rails of your ceiling and hang your poster!

Poster Snap:
Ideal complement to Ceiling Hangeret Ceiling clamp of Newly, Poster Snap systems is a system composed of two bars (upper and lower) to present a poster or poster. The poster just fit in each bar to which a valve system just block the poster. The top bar is fitted with loops for hanging, the bottom serving bar from against weight so that the poster is straight and that it will not Furl on it even.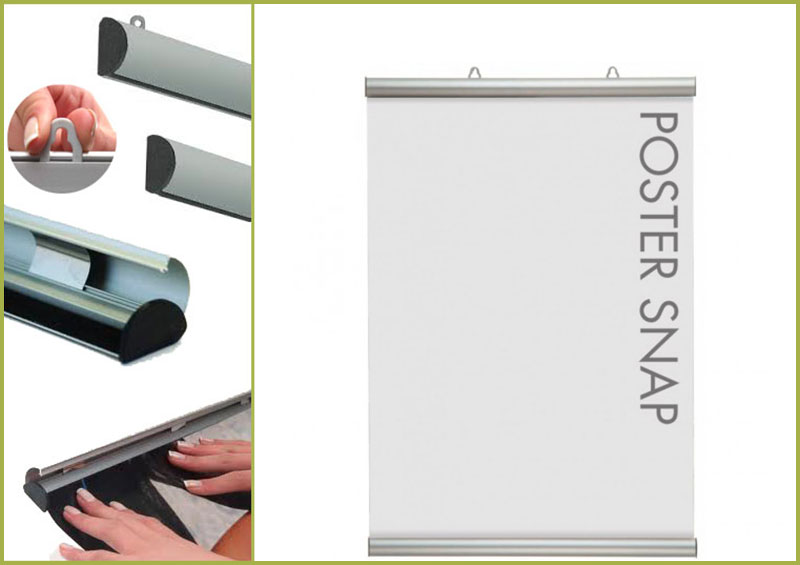 ClickFrame frames:
Famous frames ClickFrame to change a document through its ingenious front. Indeed, with a clickframe framework, you can change the document in 4 small claps.
In a school, college or a high school, there is still need to display information, information changing very often. It is therefore important to be able to do it easily. The ClickFrame frames are made for this.
Existing in multiple dimensions, frames ClickFrame are available A4 format in A2 format and can be installed vertically or horizontally.