Guide frames

Frame Nielsen C2 (see our offers)
C2 is differentiated by its sober and elegant. This framework reflects the modern design trend and seduced by its attractive price. C2 is available in 18 sizes and 8 finishes.
Frame Nielsen Casa
Aluminum frames are both modern and timeless for framing of photos. We have added to our range aluminium frames CASA.  With its bright and colorful surface, this range brings freshness in the world of coaching.
This new aluminium frame suitable for customer who appreciates timeless design while affirming its originality by contemporary colours. The profile, 32 mm in width, slightly inclined towards the subject, is especially suitable for large-format photos or posters.
But prints or the charcoal drawings are not forgotten and can also be presented in an optimal light thanks to the design of Casa chopsticks. Profile Casa allows, thanks to its high quality finish and vibrant colours, to frame images with style.
A total of 7 colours and finishes fit perfectly with the many trends in the furnishing of the House and offices.
The new framework CASA is available in 11 formats.
Try it, you'll be surprised!

Nielsen Classic frame
An artistic touch for all. If you want to create yourself your frame, ready-made frame Nielsen is for you. Available in 14 finishes and 31 formats.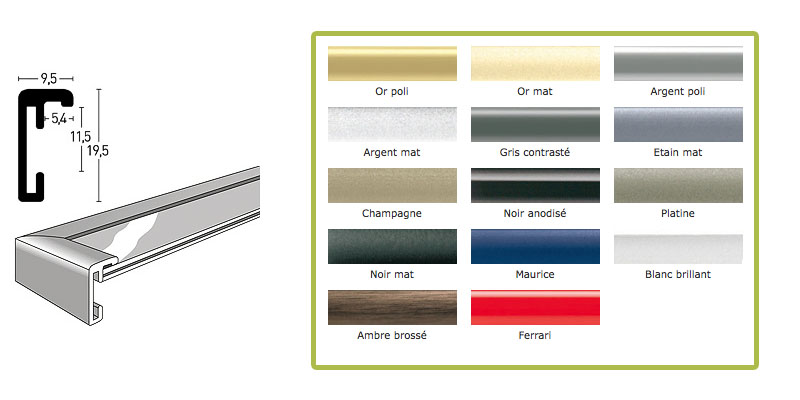 Frame Nielsen Crystal
Modern and universal. Nielsen Bainbridge has creates the range of frames ready to use Crystal from profile 51, known and appreciated by all. . Available in 4 finishes and 11 sizes.

Frame Nielsen Kuros
Kuros is the new range of frameworks standards aluminum clear lines, delicate profile and elegant proportions. Its different facets reflect the current trend in interior decoration. 6 standard sizes of 30 x 40 cm to 70 x 100 cm are available in the Kuros all in 3 finishes range.

Frame Nielsen Pixel
The strength of the frame in aluminium Pixel is in its simple elegance. The slightly inclined narrow band be well-suited to many type of subject. This framework is available in 14 sizes and 6 colors

Frame Nielsen Alpha (see our offers)
Alpha, the new framework in aluminium by Nielsen to meet the highest expectations. The frame is attractive with its high-grade aluminum profile. Alpha is available in 10 finishes, 6 anodized and 4 real wood veneers a frame without equal. Only the best components are used on the production of the Alpha line.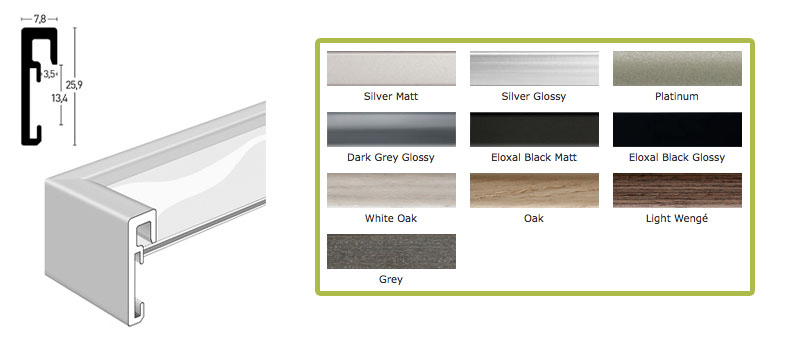 Frame Nielsen Ascott
The chic former. This range of standard frames wood is attractive by its traditional charm especially highlighted by the combination of wood and the Golden NET. Ascott allows a great possibility of framing portraits, photos, landscapes, and documents. This framework is available in 4 hot finishes made from a patina (light brown and gold, Brown and gold, gold and silver) and a golden NET and 7 formats.

Frame Nielsen Derby
This concave wooden stick decorated with a fine golden band exudes a retro charm. Derby is perfect for romantic landscapes, prints, documents, portraits, etc. Warm colors (rosewood) with a golden edge, gold-lined silver and silver edged in gold all in 10 formats.

Frame Nielsen Ecocare (see our offers)
100% ecologic in the choice of the first materials
Bamboo: Resistant and robust, economic plant that requires little effort to promote growth, must be less than 5 years for the plant to reach maturity. Environmentally friendly plant, no use of fertilizers, chemical or pesticide
Hevea: It is a wood of operating, its production is respectful of sustainable development (primary forest protection and reduction of CO2 emissions). Resistant, strong, easily façonnable, wood with a variety of hues that make it the ideal material for quality creations.
The glass used is a recyclable glass. EcoCare range is composed of no source of plastic. Passe Partout is recycled and fully biodegradable. The back of the frame is made from recycled wood pulp.
The frames are made without solvents or chemical oils. The solvents used are water-based solvents. Available in three finishes and 6 formats.

Frame Nielsen Essentials
If you like natural wood, you'll love the range of frames essentially composed of the best quality of wood of standard frames Nielsen. 3 finishes wood await birch, cherry and Rosewood in addition to finishes black, white, silver/red, silver/anthracite paint and gold. Essential is the natural design and modern style button. Available in 17 sizes.

Nielsen Nordic framework
The baton round curves give relief to the Visual. Nordic is available in 3 finishes: white, Brown and black and 9 sizes.

Frame Nielsen Zoom
Zoom standard framework is a framework wood rounded having a wand 13 mm in width. Zoom is available in 10 finishes and 9 sizes including 4 image sizes. Executives including 4 image sizes are equipped with a black back and two suspension points.